Dubai Safari Park Map | Learn to Get Around the Park
Plan a perfect day out with wild nature and view exotic animals living in their own habitats at Dubai Safari Park. The park is spread across almost 300 acres of land and has different zones and areas that connect you to the animals and nature in different ways. To make sure that you don't miss out on anything, learn more about the park map and how you can get it.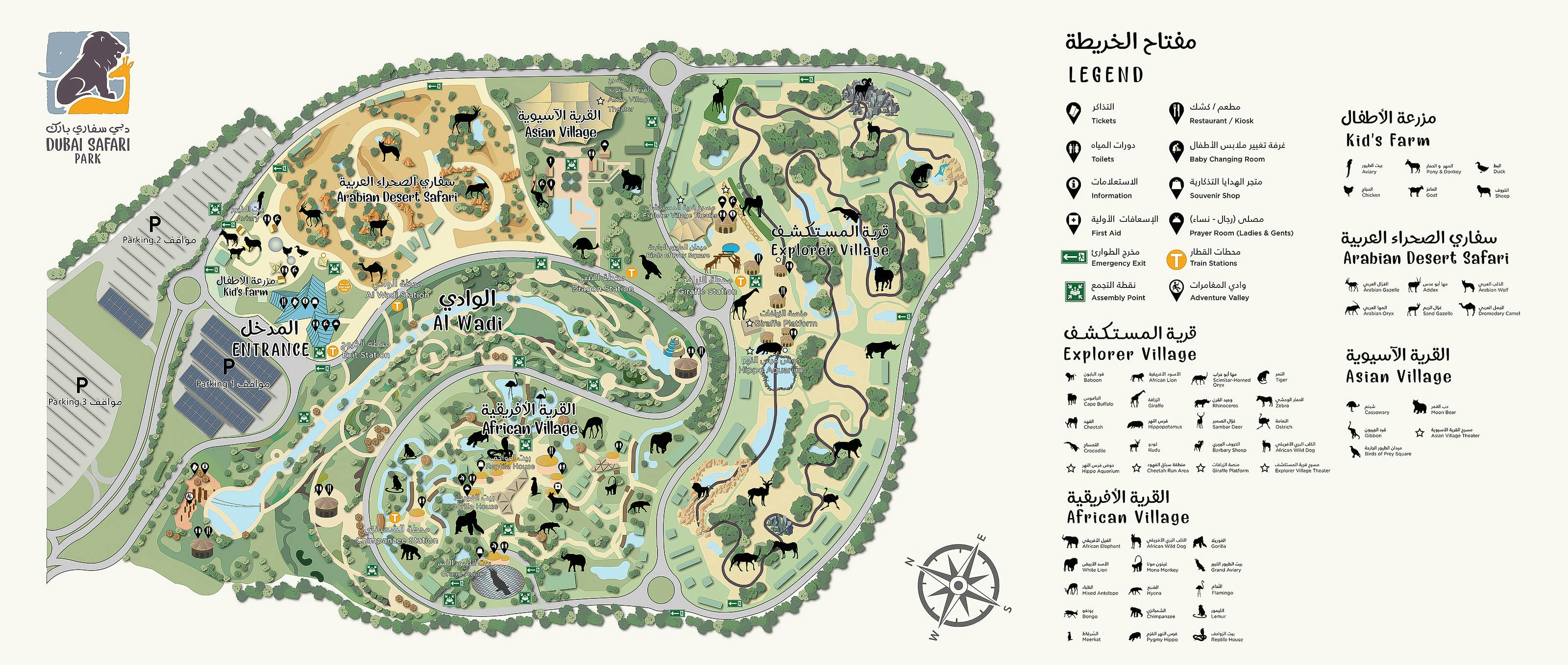 As Dubai Safari Park is a large area, they have created a map that allows you to get around the park more easily. Usually, a visit to this park takes about 4-5 hours and there is no specific order to visit the villages within. However, there is a map available for you to pick and choose what village you would like to visit first. You can also approach anyone from the park's guest service staff to guide you on how to best get around the park. 
Getting Around the Dubai Safari Park
By Walk
If you're up for it, you can make the most of your experience by getting around the park on foot. You can spend more time with your favourite animals and thoroughly enjoy a break from the monotony of working life. Make sure that you wear comfortable clothes and shoes and also carry some water and snacks to keep your energy levels up. You can even take short breaks at cafes or restaurants or relax while you marvel at the animals from their viewing platforms. 
By Super Taxi
If you want to only visit the villages that you're interested in, you can head straight to your desired village by the Super Taxis available inside the park. They will take you to any location within the park and you will have to pay for the service at the spot. 
Charges per pick up and drop off: 
Adult: 10 AED
Child: 5 AED
Visitor Facilities
Wheelchair Accessibility: The entire Dubai Safari Park is fully equipped to be accessed by wheelchair. You can avail wheelchairs at the guest service counter upon request and a nominal fee. All the park transportation, i.e. the buses, train and taxi are all wheelchair accessible. 
Toilets: There are toilets available at the main building and also within the villages throughout the park. They are also wheelchair accessible.
Locker: There are no locker facilities available at the park. However, you can speak to the staff at the entrance and they will make sure to keep your belongings safe while you're inside the park.
Baby Changing Rooms: There are baby changing rooms available in all the villages in the park. 
Prayer Rooms: If you wish to attend prayer during your visit, you can take a break at one of the four prayer rooms available in the park. Prayer rooms are available at the Main Building, the African Village, the Explorer Village and the Asian Village. Approach the staff to guide you to these rooms.
Wifi: You can avail free wifi during your visit in the park. You can get the name and password for the wifi network at the entrance.
First Aid: There is an in-house paramedics team available to assist you with any injuries or emergencies during the park operation hours.
Lost & Found: If you lose any of your belongings in the park, you can approach the staff or the main building to help you. 
Souvenir Photos: There are photographers available within the park who will click amazing pictures for remembrance as you interact with the animals. You can pick up your photos from the Main Building Souvenir Photos counter. 
Information Kiosk: In case you need any assistance, you can approach the staff at the entrance to help you with tips, information and directions.
Kids Ride: You can avail mini cars for your children at the African Village and the Explorer Village for your children to enjoy.
Dubai Safari Park Regulations
For health and safety, visitors are subject to screening at the entrance.
The park suggests that visitors wear comfortable and modest clothing. Your shoulders and knees must be covered. 
Visitors are expected to respect the animals and park regulations. Unless you are on feeding grounds, you are not permitted to feed or tease the animals. Do not litter.
Scooters, bicycles, roller skates and skateboards are not allowed inside the park.
Balloons, balls, toy guns and flash photography are prohibited as they may cause stress to the animals within.
Smoking is permitted only in the designated smoking areas.
Outside food and beverages are not allowed in the park. You can avail snacks or food at one of the 7 restaurants or cafes within the park. Alcohol is strictly prohibited.
Pets are not permitted inside the park.
Drones are prohibited.
Minors must always be accompanied by a parent or guardian.
Follow the staff instructions at all times and avoid venturing into prohibited areas for your own safety.
Visitor Tips
Pre-book your tickets online as some upgrades are not available offline. If you want to avail train service or Super Taxi, you can only book them online.
Make sure that you have a copy of the park map to know your way around and plan your visit.
Wear comfortable clothing and shoes as you will have to walk quite a bit around the park.
Make sure to apply sunscreen and carry sunglasses and hats to keep yourself protected from the sun. We also recommend carrying an umbrella if it's too sunny or raining.
Drink plenty of fluids and keep yourself hydrated during your visit in the park.
Only UAE Dirhams are accepted as currency within the park. There are no ATMs available inside the park so make sure to carry sufficient liquid cash.
Frequently Asked Questions About Dubai Safari Park Map
Is there a map available of Dubai Safari Park?
Yes, there is a map available of the Dubai Safari Park. You can easily download the map here.
Is it important to have a map of the Dubai Safari Park?
While it is not mandatory for you to have the Dubai Safari Park map with you, downloading it beforehand will allow you to be aware of your whereabouts in the park.
Where can I get a map of the Dubai Safari Park?
What facilities as available at the Dubai Safari Park?
Along with wheelchair accessible toilets, baby changing rooms and an information kiosk, there is also free wifi, eateries around the park, first aid facilities and much more.
Is Dubai Safari Park wheelchair accessible?
Dubai safari Park is fully equipped to be wheelchair accessible. There are wheelchair accessible toilets and ramps on all the safari buses.
Where can I book my Dubai Safari Park tickets?
You can easily book your Dubai Safari Park online tickets here.
More Reads
Getting to Dubai Safari Park
Dubai Safari Park Live Shows